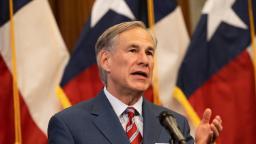 But, did it also obscure the stumbles and poor decision-making by Texas Republican Gov. Greg Abbott? As in, did Cruz's bad publicity make us miss the real story of the grid failure — Abbott's own failures amid crisis?
After all, Abbott, as governor, has far more actual influence in the way the state makes (and made) decisions about its power supply — and oversight over the groups that are responsible for ensuring that a catastrophe like the one that happened earlier this month in Texas don't happen. Abbott, for instance, appointed longtime aide
DeAnn Walker to head the state's Public Utility Commission
, one of the entities with oversight of the Electric Reliability Council of Texas (ERCOT), which runs the Texas power grid and has come in for the lion's share of blame for the outages.
And it was Abbott who tried to initially blame liberal energy policies for the crisis — after ERCOT reported that some wind turbines has frozen in the cold weather. "This shows how the Green New Deal would be a deadly deal for the United States of America,"
Abbott told Fox News' Sean Hannity
, neglecting the fact that the primary reason for the electricity shortage was due to issues with the state's natural gas supply.
And it was Abbott who aside from that Hannity interview, was largely absent from the airwaves amid the teeth of the crisis. As the Washington Post noted on February 21:
"It was clear by Tuesday afternoon that Texas was in a full-blown crisis — and Gov. Greg Abbott (R) had largely been out of sight.
"More than 4 million households did not have power amid dangerously low temperatures, and an increasing number did not have heat or running water. Some families were burning furniture to stay warm, grocery stores were emptying, and people were dying. In the freezing darkness, many desperate Texans felt they were left to fend for themselves.
"In 2011, Texas faced a very similar storm that froze natural gas wells and affected coal plants and wind turbines, leading to power outages across the state. A decade later, Texas power generators have still not made all the investments necessary to prevent plants from tripping offline during extreme cold, experts said."
How much of a hit — if any — has Abbott taken for his less-than-stellar performance amid the crisis? It's not clear because there hasn't been any quality polling done since the power problems hit.
Even if Abbott's numbers take a further hit in the wake of the electricity crisis (and it seems likely they will), he still has to be considered a favorite to win a third term next November given Texas' (still) Republican tilt.